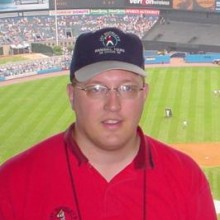 About Me
Sports Radio guy from Minnesota who has gotten the chance to tour guide on some Major League Baseball Tours...with the best Baseball Tour company in the business, Jay Buckley Baseball Tours. Also have gotten to some other events, and would enjoy to see many more!
I'm a Big Fan of:
High School Basketball
High School Football
High School Hockey
Pro Baseball
Pro Football
My Sports Bucket List
My Passport
Forum
Joel hasn't started contributing.