16th Hole at the Phoenix Open
With all the buzz about Sunday's Super Bowl, one very unique event that occurs this weekend often gets overlooked.
The Ultimate Sports List has much representation from the world of golf, including the Masters, The Ryder Cup, The Open Championship and Pebble Beach Golf Links. While most golf events in TUSL.com involve either a championship or a course, one event involves only one hole - the 16th hole at the Phoenix Open.
And it's not a diabolical Pete Dye created island green like #17 at TPC Sawgrass, or the famous #18 at Pebble Beach with the waves of the Pacific guarding its entire left side, or even the Road Hole at St. Andrews, which requires a drive over the old hotel. No, the 16th at Phoenix is a rather pedestrian par three that plays a very normal 162 yards on a typical day. So just what makes it so special and justifies its #125 ranking on The Ultimate Sports List? One word. Fans.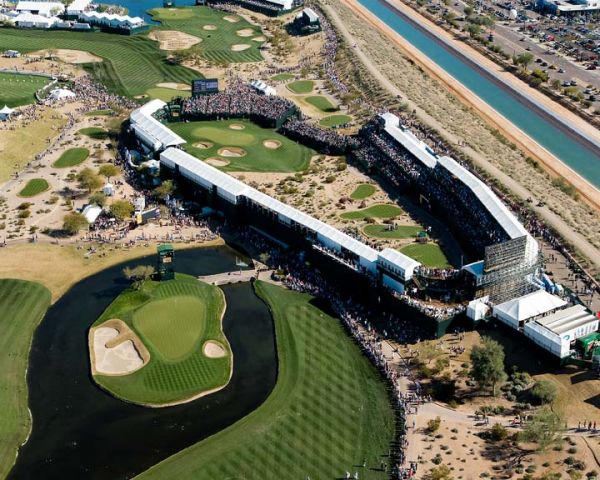 The 16th at TPC Scottsdale is literally an arena, as it is completely encased by bleachers and sky boxes.There is no other hole like it on any of the world's various professional golf tours. How many fans? About 20,000 on a typical day. And they are not your garden variety, polite applause type golf fans. Think of hitting a golf ball at a combination SEC tailgate / Duke game at Cameron Indoor. Although the fans are quiet as each player addresses his shot, at impact, they go ballistic. Shots that miss the green are met with boos. Shots hit stiff to the flag receive wild cheers. They particularly fancy the local Arizona State grads, and have adopted ASU's Phil Mickelson as their personal favorite.

They call it the Loudest Hole in Golf. It's also the biggest party. It shouldn't be missed.
blog comments powered by

Disqus