Nominations for The Ultimate Sports List 2011!
We will beging voting for the 2011 version of The Ultimate Sports List late next week and are taking nominations for events and venues to be included in the voting. In addition to the 150 events on the 2010 List, the events below will be included.
Is their an event you think should be considered? Send the events and venues you would like to nominate for the 2011 List to nominate@tusl.com by next Thursday, May 5. The first five nominations that we receive and include in the voting will receive a new TUSL.com baseball cap pictured below.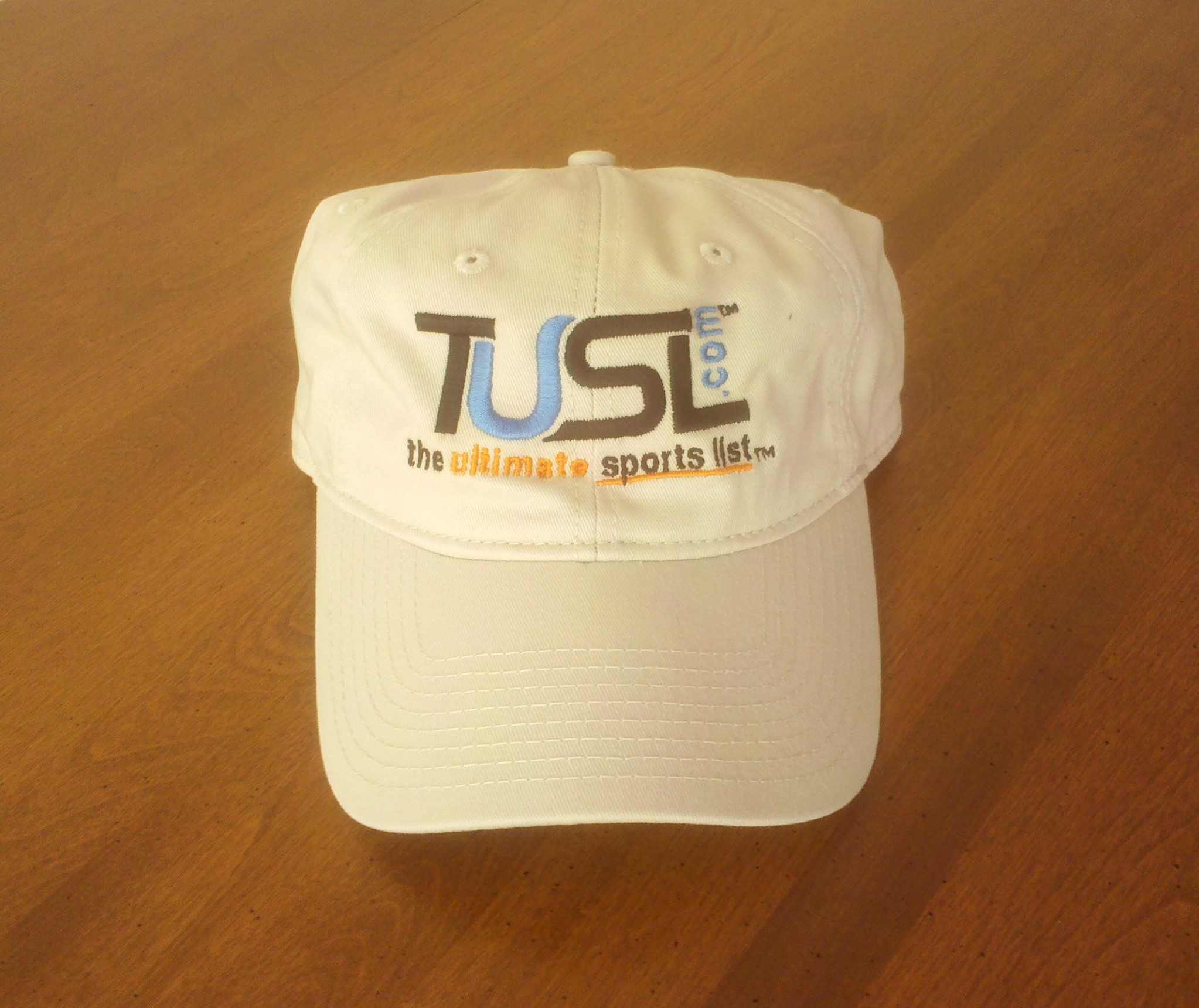 The 2011 Nominees:
A Harlem Globetrotters Game
Allen Fieldhouse at University of Kansas
American Century Championship
Ben Hill Griffin Stadium at University of Florida
Borussia Dortmund vs. Schalke 04 Soccer Match
Cameron Indoor Stadium at Duke University
Caribbean Series
Cheyenne Frontier Days
Duke vs. North Carolina Basketball Game
Estadio Azteca
FIBA World Championship
Green Bay Packers vs. Chicago Bears Football Game
Gus Macker At Belding, MI
Hong Kong Sevens
Iowa vs. Iowa State Wrestling Match
Japan Championship Series
Kansas vs. Missouri Basketball Game
KeySpan Park, Home of the Brooklyn Cyclones
Lambeau Field
Louisville St. Xavier vs. Louisville Trinity Football Game
Massillon Washington vs. Canton McKinley Football Game
Midnight Sun Game, Fairbanks, Alaska
National Finals Rodeo
National Spelling Bee
New York City Marathon
Neyland Stadium at University of Tennessee
NHL Winter Classic
Oregon versus Oregon State Football Game
Palio di Siena
Penn Relays
Permian High School Football Game
Pikes Peak International Hill Climb
Prefontaine Classic
Ralph Englestad Arena at the University of North Dakota
Rickwood Field
Santa Anita Park
Stanford vs. California Football Game
The Baja 500
The Dubai World Cup
The FINA World Championship
The Goshen Historic Track
The Grey Cup
The Hambletonian Stakes
The London Marathon
The Melbourne Cricket Ground
The Naismith Memorial Basketball Hall Of Fame
The NCAA Men's Lacrosse Championship
The NCAA Wrestling Championship
The Pro Bowl
The United States Senior Open Golf Championship
The United States Women's Open Golf Championship
The Walker Cup
The World Equestrian Games
The World Lacrosse Championship
The World Series of Poker
The X Games
University Arena at University of New Mexico
University of Tennessee Women's Basketball Game at Thompson-Boling Arena
US Amateur Golf Championship
US Olympic Team Trials - Swimming
Wembley Stadium
World Baseball Classic
blog comments powered by

Disqus