Time To Vote!
The polls are open for The Ultimate Sports List 2011! (actually, our polls are always open, but it just sounds good to say that). Over the next month, you can help determine the next list of the world's greatest sporting events. We've included the current list plus those events that were in the voting last year, and even added a few new ones at the suggestions of our members. So it's time to vote.
A couple tips on voting are in order.
First and foremost, you need to join TUSL.com before you can vote, and that is both free and easy. If you are a member of Facebook, click the

button at the top right of the home page (make sure you are logged into Facebook) and follow the instructions. Facebook will populate most of the information we need. If you are not a Facebook member, just click

near the top right of the page. In either case, once you have entered the information, click

and you have officially joined TUSL.com. Before you go too far, make sure you click "Edit Profile" on the
tab and add your photo and any information about yourself. You can also click

to fill out our quick survey about your favorite sports.
Now, on to the Voting Booth.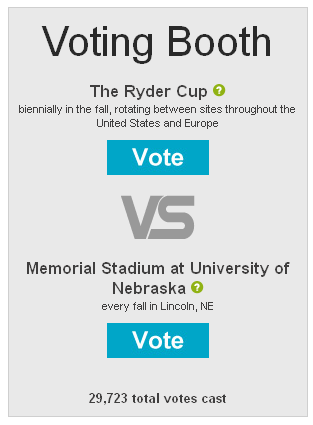 When logged in, click the
tab and then

. You are now ready to vote. A couple things to keep in mind here. You will be presented with a choice, "Which event would you rather attend?" and then two options. These options were randomly generated from our nominations (we did that to try and keep fan bias out of the equation. Sports fans are biased? Really ...) Anyway, roll your mouse over the

for the event you want to chose, and it will turn to

. Click your mouse and you just voted. It was that easy. Each voting module is divided into 20 votes, and each event will appear twice in a module. If there is an event you are not familiar with, click the

and a bubble will give you a brief description.
How long does a module of 20 votes take? Anywhere from 2-4 minutes. And you can stop voting any time and pick up where you left off later. Although how you vote is up to you, our best advice is to pick the first one that jumps out at you and, don't let the fact that you've been to one of the two events influence your decision ("I've been to the Indy 500 but not the Daytona 500, so I'll pick Daytona"). Assume you've been to neither.
Those who have voted a lot say it is a great alternative to Sudoku, and can get you through those boring conference calls. And best of all, you will learn about these great events and find yourself really thinking, "What if I had a chance to go to Wimbledon or the Tour De France? Which would I rather do?"
Tomorrow, we will announce a contest with a major giveaway from one of our partners that will give you added incentive to vote over these next 30 days.
So, go ahead and get started. And as they say in Chicago, "Vote early, and vote often!"
blog comments powered by

Disqus